Arizona honey infused with hazelnut coffee over ice cream–oh my! In addition, one of the advantages to using honey as a sweetener is that a little goes a long way. Try drizzling one to two spoonfuls of our infused Arizona honey instead of slathering a beautiful scoop of vanilla ice cream with a traditional topping. Our honey is hand-mixed to perfection of just the right amount of hazelnut coffee. Not fond of coffee in your honey? Try one of our many other specially crafted infused honeys (here) that would better suit your taste.
AZ Honey Infused with Hazelnut Coffee over Ice Cream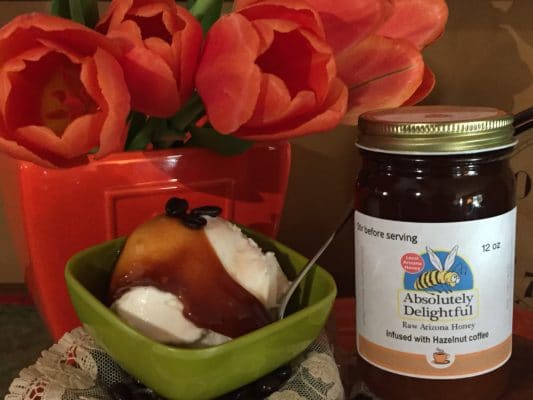 Scoop your favorite vanilla bean ice cream into a bowl or mug. Stir your jar of Absolutely Delightful Arizona Honey Infused with Hazelnut Coffee, as the coffee will naturally float to the top of the honey jar. I like to use a chopstick for stirring, but a spoon will work well, too. Once the honey is stirred so the coffee is fully incorporated into the honey,  slowly pull out the chopstick or spoon, turning slowly to keep the honey from dripping. Drizzle your honey over the ice cream to your satisfaction. Optional: Top with whipped cream and another drizzle or two of your infused honey. Enjoy!
Life is sweet when there's honey to eat.
Lisa Hamilton
for Absolutely Delightful AZ Honey
You can now subscribe to our posting! Be up-to-date on special events, keep current on in-season honey, and try new recipes using our local Arizona honey.  If you enjoyed this post, please share with friends and family.