Chai spice is well known for the warming blend of cinnamon, ginger, cardamom, peppercorns and star anise. Recently becoming popular in barista drinks, chai spice is a fun addition to a hot latte. Whether you are new to the flavors or have been enjoying the chai spice blend for years, you will certainly enjoy our special blend of spices to make your own perfect chai beverage.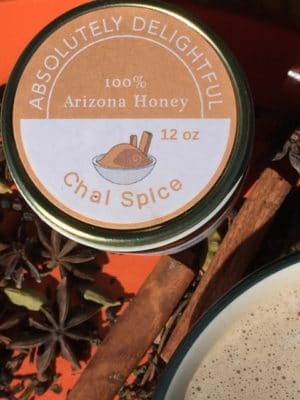 Dirty Chai Spice Latte
Dirty Chai is a delicious blend of coffee, black tea, milk and spices with just enough added sweetness for balance. In our version, we add the special sweetness of local honey. You too can make the perfect drink by adding a spoonful or two of our Chai Spice Honey to your latte. Furthermore, by making your latte at home, you have more control of the sweetness added to your beverage.
Directions: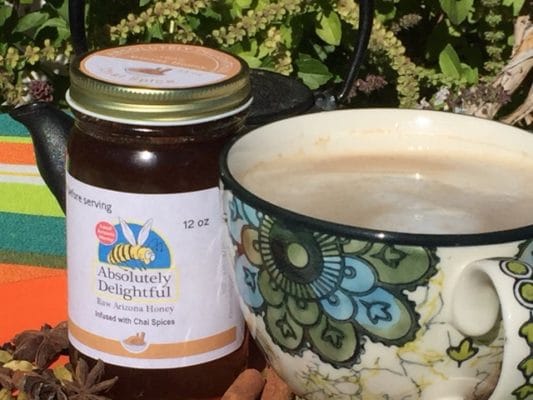 Start by preparing the coffee using your favorite method.
While the coffee is brewing, prepare the tea by pouring boiling water over the tea bag or loose tea. Allow the tea to steep for 5-10 minutes.
While the tea is steeping, heat the milk in a pot on the stove, or microwave until hot. Froth the milk by beating with a small whisk or frother.
Return to your tea. Remove the tea bag/tea container from tea. If you are using loose tea, strain the tea into your cup. Stir the Absolutely Delightful Chai Spiced Honey into the tea until the honey is completely dissolved.  Next, add coffee and a drop of vanilla to the chai and stir. Lastly, pour the milk into the tea/coffee/honey mixture, stirring gently with the cinnamon stick to garnish your dirty chai latte! Take a sip and enjoy your wonderful creation!
Adapted from This Organic Life
Life is sweet when there's honey to eat.
Lisa Hamilton
for Absolutely Delightful AZ Honey
Remain up-to-date on special events and keep current on in-season honey by subscribing to our blog. Start by trying new recipes using our local Arizona honey and share with friends and family. Because of your support, we are able to bring you the best local Arizona honey. Thank you!